All Things Bright & Beautiful
Hi, my friends! Wow. So much to fill you in on!
Let's pretend I didn't just have to break out the WD-40 to pry open this rusty newsletter. (I really had forgotten my password — seriously embarrassing!) Just happy to be back. Let's catch up!
Thanks for reading Radiant! Subscribe for free to receive new posts and support my work.
If you follow me online, you probably already know that we finally (!) moved into our new home at the end of July after a grueling home build process. We expected that building a house would be a stressful time, but it's kind of like when you're getting ready to have your first baby and people tell you how tired you'll be. And you shrug, thinking, Okay? I've been tired before. Except you can't know that *newborn tired* is another level of tired until you actually experience it. Well, in that same vein, we didn't know that *house-building stress* is completely next level. It's in its own realm. 
And while getting here was brutal, we are SO HAPPY to be here. Right after moving in, and I do mean right after, we welcomed 6 goats and 4 hens and a great pyrenees puppy to our land. Oh, and bees! (We have since re-homed two of our goats because they were too bossy for our herd).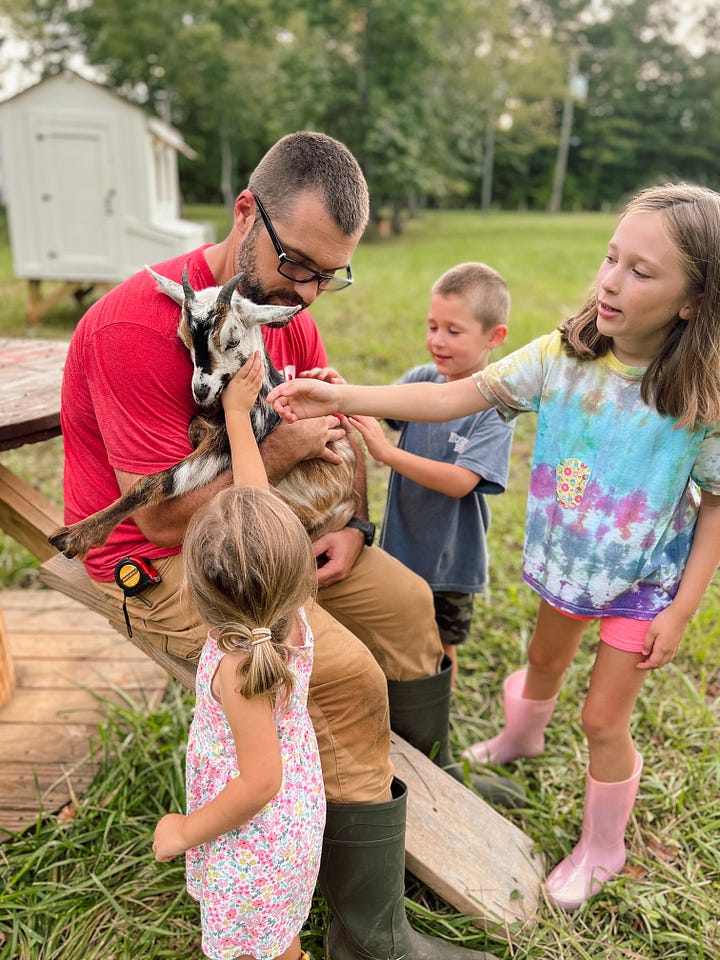 We have so many dreams and plans for this property, but just like everyone else, we have to prioritize and save up and tackle them one project at a time. I have to remind myself that's really the beauty of building a life…it happens slowly and thoughtfully, bit by bit. It doesn't just happen all at once - it takes hands and heart, and that's the space where the memories are made.
I will let you in on one of my dreams for our little hobby farm. One day, I would love to have a small farm stand at the end of our driveway where locals can drop by to pick up produce, honey, eggs, and flowers for sale. That may be a long way off, but I'd be lying if I said I didn't have a Pinterest board already started. A girl can dream, ya know. :)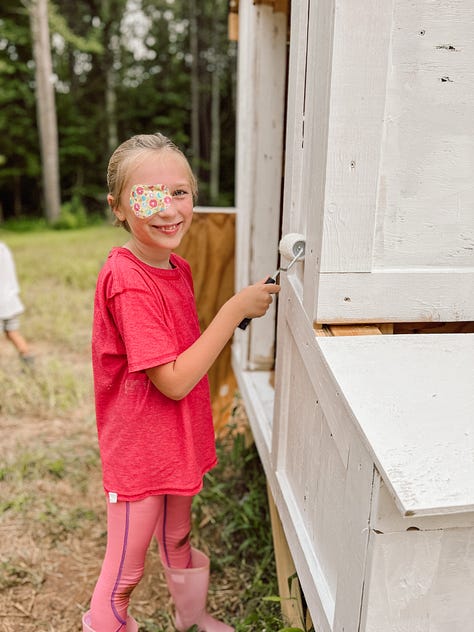 //
Our kids are now beginning to celebrate their birthdays in this home, which makes it even sweeter. 
Somehow, I am now mom to a 9 year old. I can't wrap my head around this, even with her standing next to me so tall and learning big girl skills like sewing. For her 9th, Aven decided to have a Narnia themed party this year, which made me ridiculously happy. Because I love all things Narnia, I had approximately one million ideas swirling, but had to distill them down into a manageable undertaking. We fashioned a wardrobe entrance in our foyer, DIY'ed banners and flags to create a Cair Paravel castle vibe in our living room, and painted a lamp post on posterboard as an ode to Lantern Waste. To my husband's dismay, I absolutely did place floral crowns on his beloved deer heads that are mounted in our living room. And of course there was Turkish Delight at the feast! It was all so whimsical and magical that we left the decorations up for a solid week.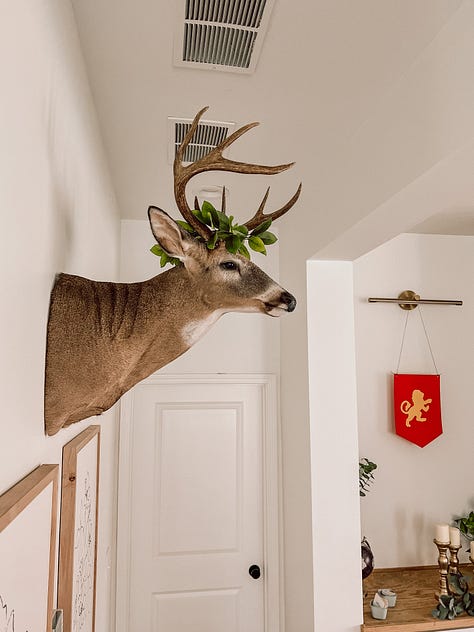 The day after the party, with the Narnia paraphernalia still surrounding us, we sat down to watch The Lion, the Witch, and the Wardrobe as a family. (Alas, the movie never holds a candle to the book, but it'll do.) A couple of scenes were too intense for Elowyn, my youngest, so we just skipped those bits, but as the rest of the movie played, she floated around the living room alternating between watching the movie and playing with Perler beads (IYKYK). Honestly, she didn't seem that into the story, but when it ended, she came right over to my spot on the couch and said to me in her gravelly little voice, "Mama, he needs to be for real." 
"Who does?" I asked.
"Aslan," she replied.
"Ohhh," I said. When I asked her why he needs to be real, she looked me dead in the eyes and said "because we need to see him." 
Whoooosh. Immediate tears stung my eyes. 
I tell her: Yes, sweet girl. We do need him to be "for real." I have such good news for you – there is a real Lion of Judah and his name is Jesus. And we do need to see him. We can. 
It astounds me (but maybe it shouldn't) that Elowyn, at just 3 years old, was able to behold the goodness, might, graciousness, and beauty of Aslan, who is a picture of Christ, and that she was inexplicably drawn to that. She wanted to be near him, see him "up close."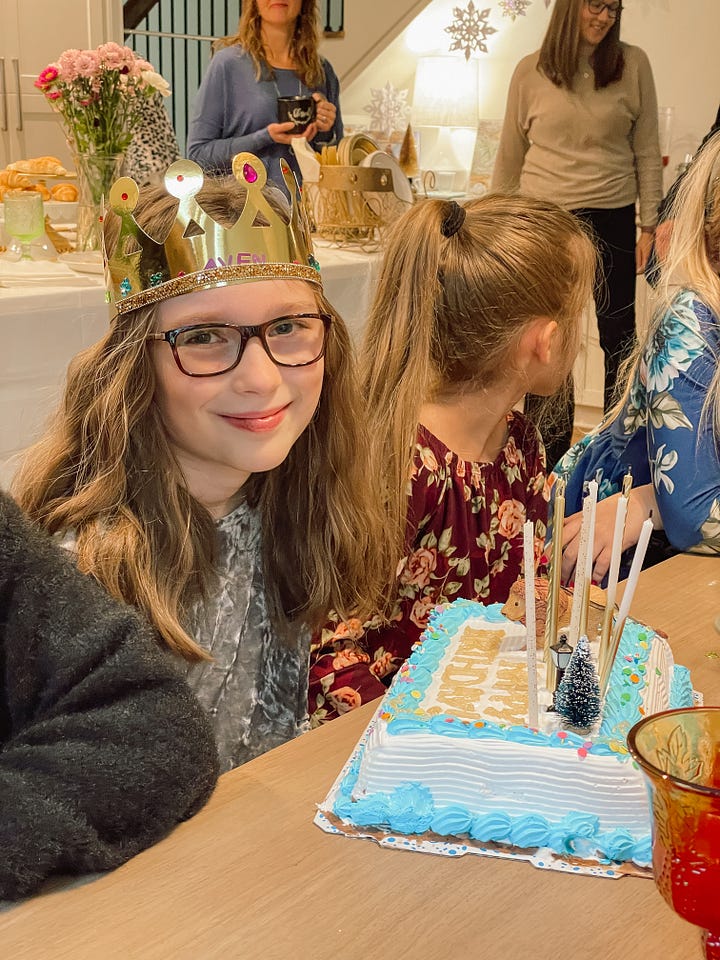 Maybe this is an extremely nerdy thing to admit, but I plan to thank C.S. Lewis profusely when I meet him in heaven. I'm forever grateful for these stories from the land of Narnia, a figment of his magnificent imagination. This is the power of his storytelling: he uses the fantastical to point to the supernatural. The made-up version sends our gaze heavenward. 
Mamas, expose your kids to beautiful stories like these that awaken their hearts to Truth. Read them aloud again and again. Show your children that yes, good may battle evil, but in the end - good always wins. The Light will not be overcome. Give them the gift of characters like the Pevensie siblings to become their imaginary friends and mentors. Become enraptured by a mythical land like Narnia and know that while you're enjoying your time there, important truths are being buried deep down into your children's hearts, even if they won't fully understand them or unpack them for years and years. Give them goodness and light.
"All things bright and beautiful; all things wise and wonderful." Let's fill our hearts and homes to the brim with these things. 
"[In your world], I have another name. You must learn to know me by that name. This was the very reason why you were brought to Narnia, that by knowing me here for a little, you may know me better there." - Aslan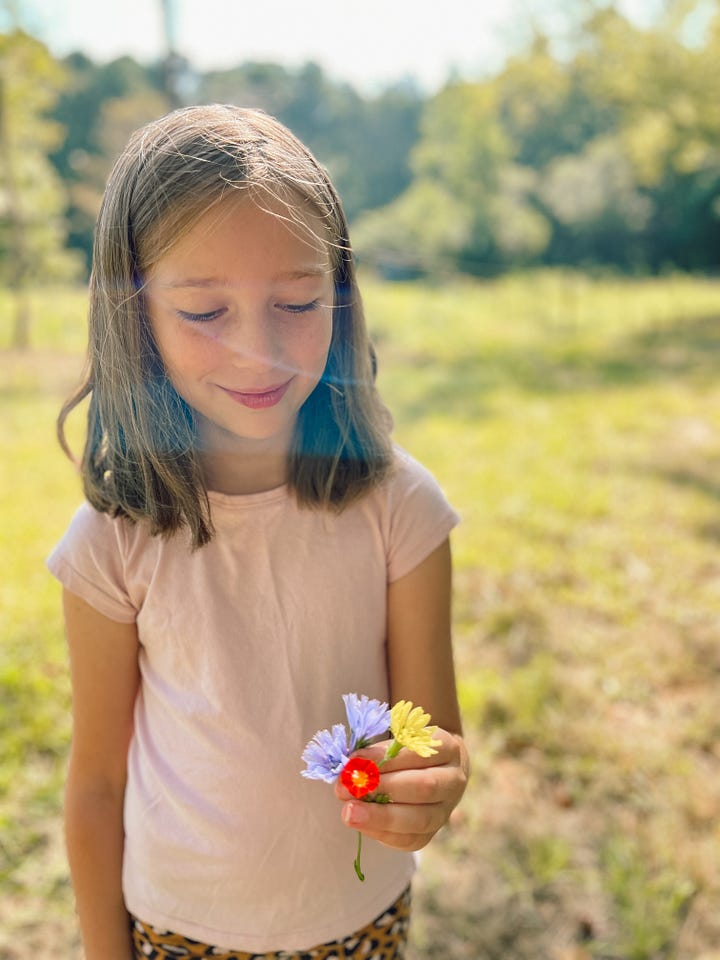 What I'm Reading: 
The Long Winter by Laura Ingalls Wilder (reading aloud) - we are big fans of Little House on the Prairie, and we've been working our way through this one all winter. Fitting. 

James Herriott's Treasury for Children (reading aloud) - this one is loved by everyone in our family. It's a compilation of stories from his veterinarian years in the English countryside.

Harry Potter Book 2; I'm working my way through this series after finally watching the movies with my husband. Good prevails over evil, even at Hogwarts.

Bible - chronological reading plan, currently in Leviticus 

The Big Book of Would You Rather Questions for Kids - we've recently been doing a lot of WYR questions at family dinner or while driving in the car, so when I saw this book I had to grab it! It's fun and leads to some interesting conversations.
What I'm Cooking:
Coconut Lime Chicken recipe - this was a recent favorite in our house (for everyone except me - curse you, meat allergy!) This recipe is AIP friendly & gluten and dairy free. Serve over rice with veggies on the side!
What I'm Loving: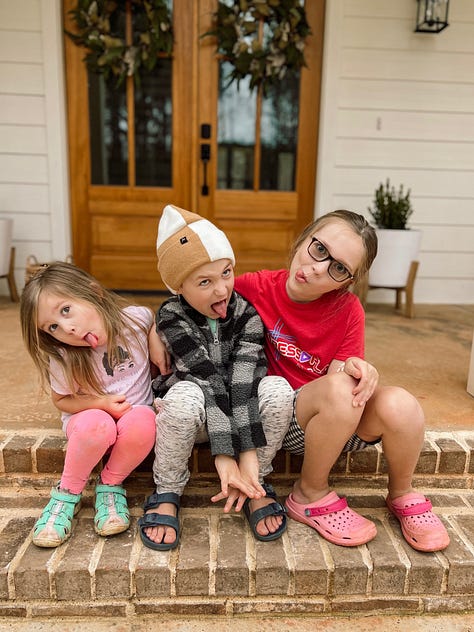 Wrong will be right, when Aslan comes in sight. 
At the sound of his roar, sorrows will be no more, 
When he bares his teeth, winter meets its death, 
And when he shakes his mane, we shall have spring again.
-C.S. Lewis
Prayer to take with you
God, thank you for literature that points us to you. Help me to remember that one day you will set all things right, and that we can trust you in the meantime, even when things feel dark and hopeless. Help me to fill my heart and my home with your truth and beauty and light. Don't let me grow weary in constantly redirecting my gaze back to you. Amen
---
Thank you for reading today! I know it was a long one. If you'd like to chat about anything I shared, just hit the reply button and your response will come directly to me. I love catching up with you guys! Talk soon. -S
Thanks for reading Radiant! Subscribe for free to receive new posts and support my work.